FLYING SQUIRREL V3.0 - Stable and accurate CineWhoop Cinema Drone Frame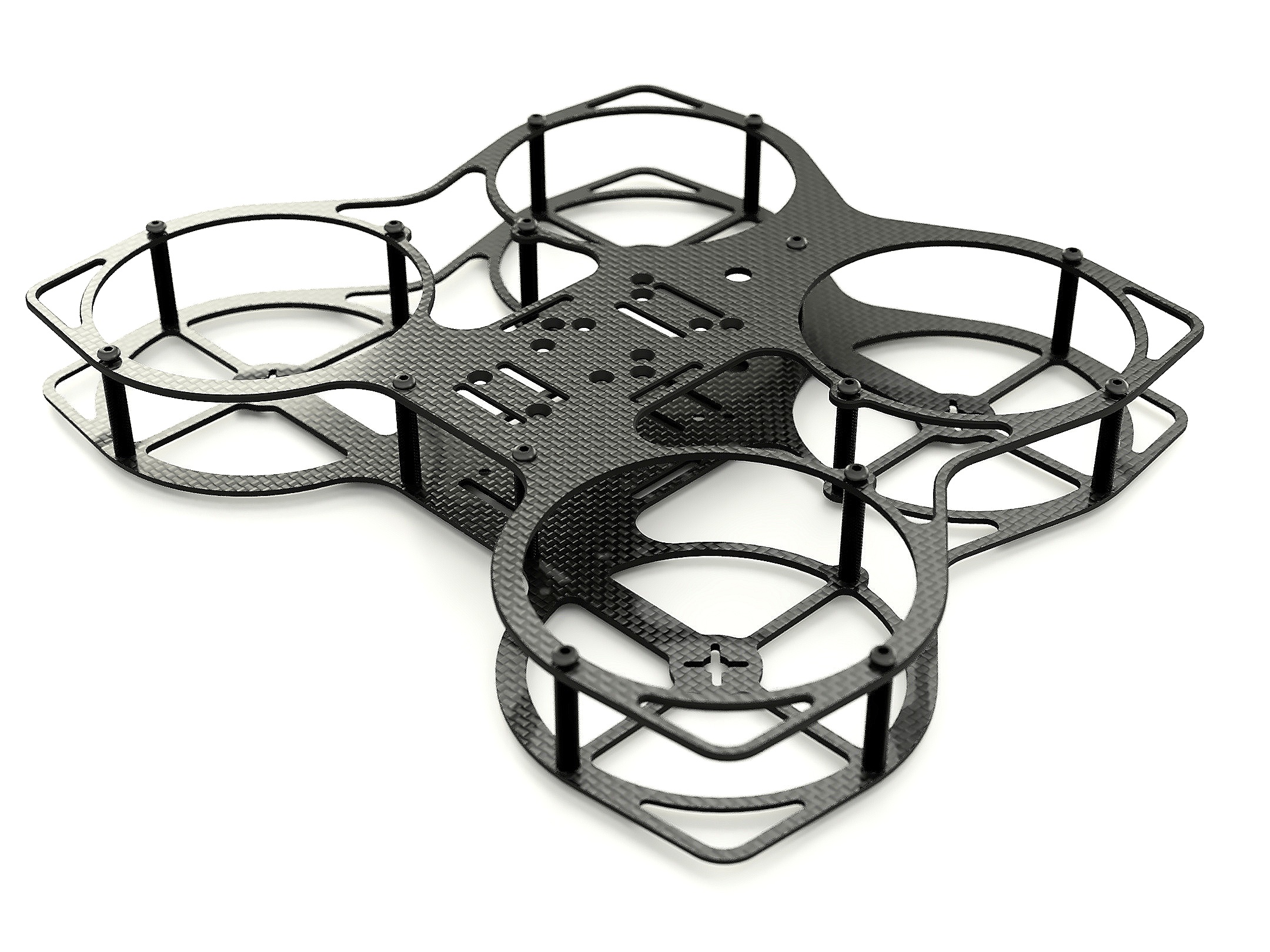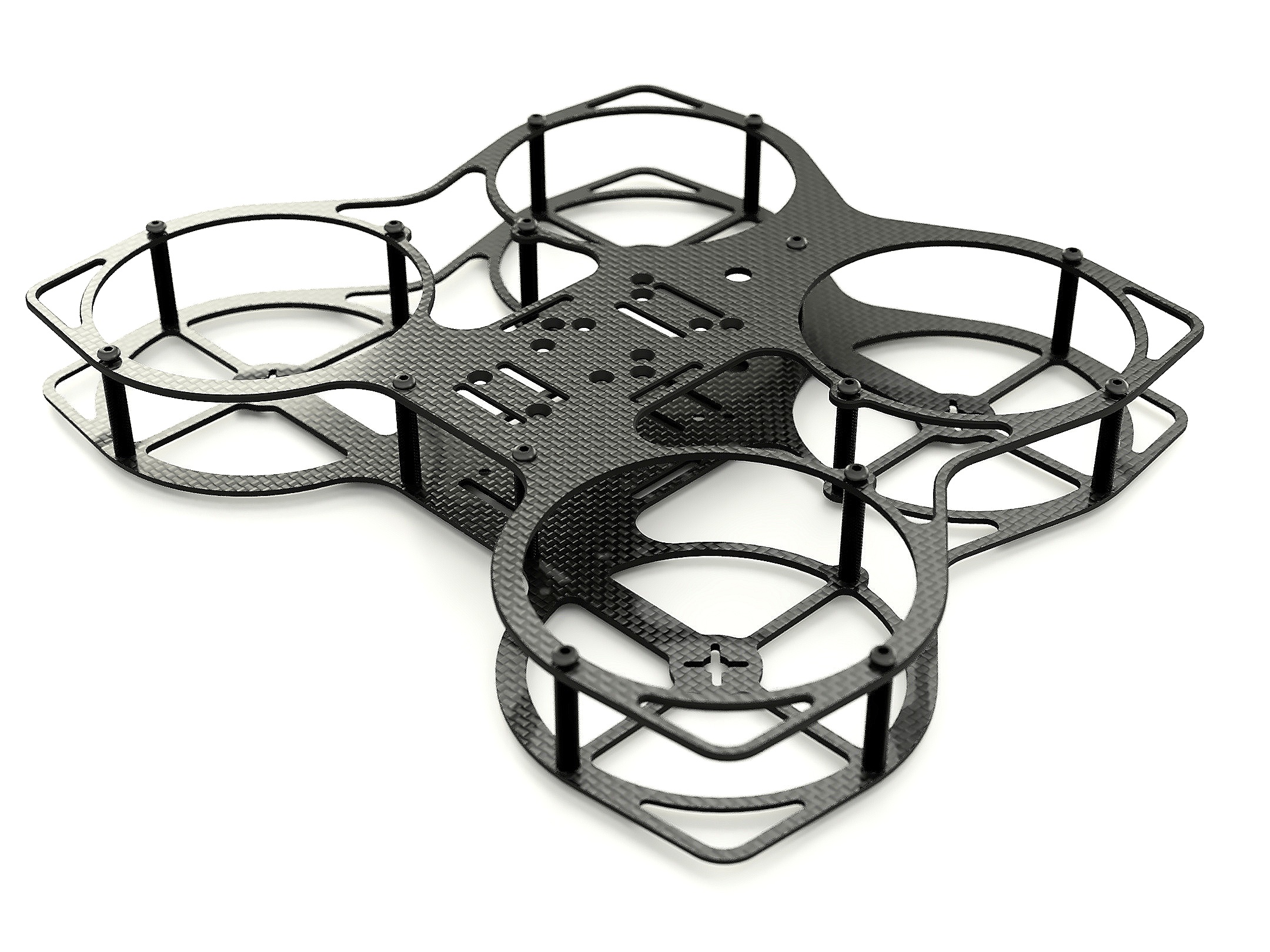 FLYING SQUIRREL V3.0 - Stable and accurate CineWhoop Cinema Drone Frame
Key Features:
DeadCat frame layout

top and bottom battery placement

big batteries and 3-axis gimbal accommodation

in front positioned HD camera
IMPORTANT NOTICE:
Collecting pre-orders till 31.07.2018. Next batch production date is 14.08.2019.
Additional 3d printed canopies and accessories are available for order or free download here.
Main specifications and features:
115 grams (without ducts)

200 x 240 mm overall dimensions

one 20 and one 20/ 30.5 mm stacks

up to 25 mm stacks height

3-inch props

up to 1606 motors

4x M2 x 9-12 mm motor screws pattern
Description:
FLYING SQUIRREL frame is designed around requirement to have Cinema drone for safe and accurate indoor HD video shooting.
"Dead cat" frame layout and solid uni-body construction of main plates delivers great flying stability and filming precision. As well much space between motors allows to carry HD camera gimbal and bigger batteries for longer fly times.
Frame is capable easy carry on GoPro Hero7 or similar HD cameras.
Both of main plates have two electronics stacks each. One stack is with 20x20 and 30.5x30.5 mm patterns, second is with 20x20 mm pattern. That allows to separately fix RunCam Split and Caddx Turtle control boards.
Additional fan ducts will increase motor/ props performance, adds thrust and stability. Inner diameter of duct is 75.6 mm, standard 3 inch props can be used. But modified 5 inch "bullnose" type of props are recommended.
Main package:
1x top plate made from 2 mm Toray T700 0-90 Plain/ UD high gloss carbon sheet

1x bottom plate made from 2 mm Toray T700 0-90 Plain/ UD high gloss carbon sheet

1x set of assembling hardware
BONUS ACCESSORIES INCLUDED:
1x 20x220mm Polyester battery straps with non-slip silicone layer

1x low ESR Rubycon 35V 1500uF capacitor

1x set of anti-damping o-rings with long nylon screws for stack

1x set of Carbon steel motor screws
RECOMMENDED FPV DRONE BUILDING PARTS:
14xx/15xx/16xx high Kv motors

Matek F722-mini 20x20 Flight Controller

Aikon AK32PIN 32Bit 35A 2-6S 20x20 4in1 ESC

Foxeer Falkor 1200 TVL

TBS Unify Nano Vtx

TBS Crossfire Nano Rx