CROSS5 - Compact and agile Cinema/ Racing Drone Frame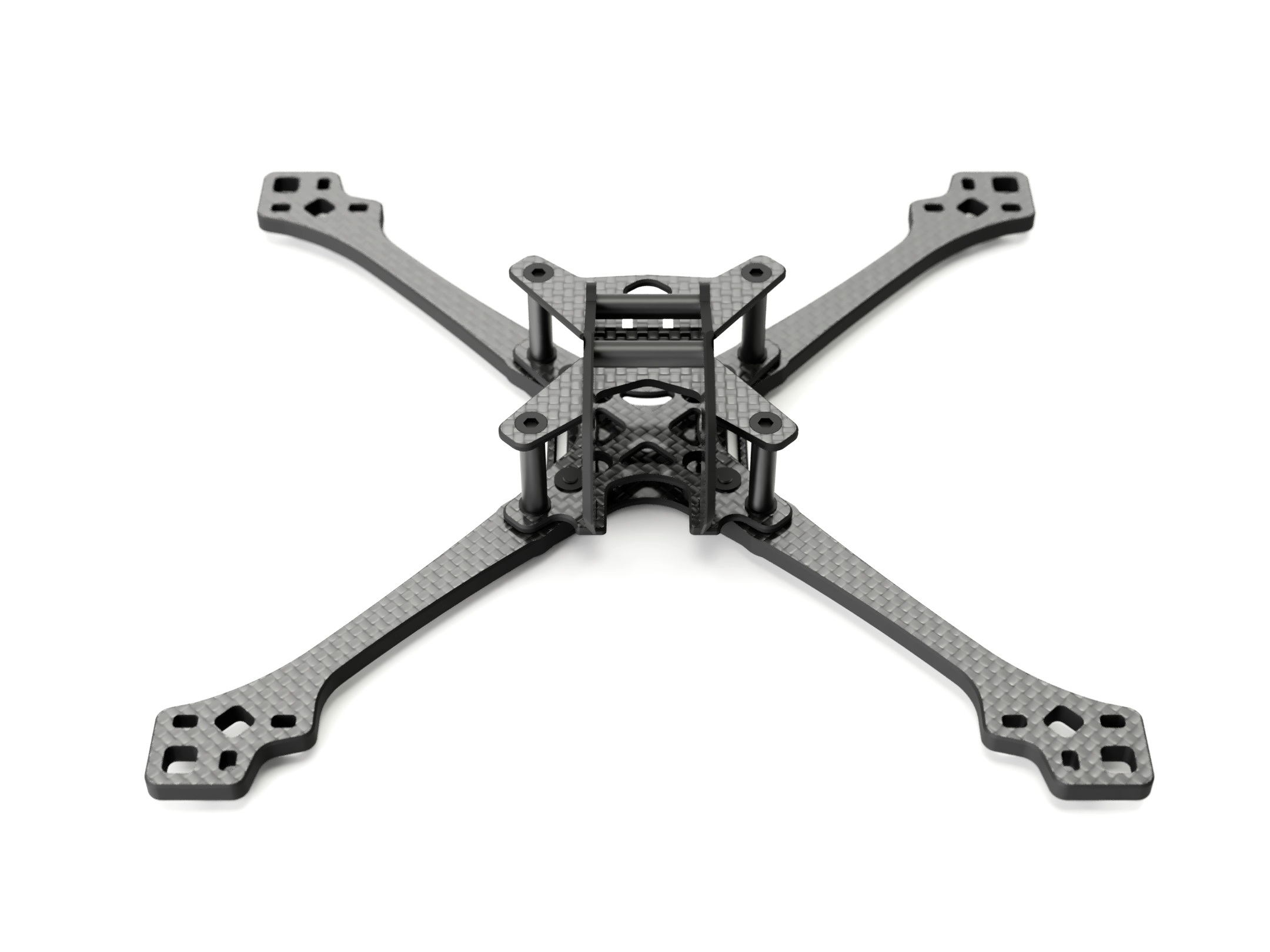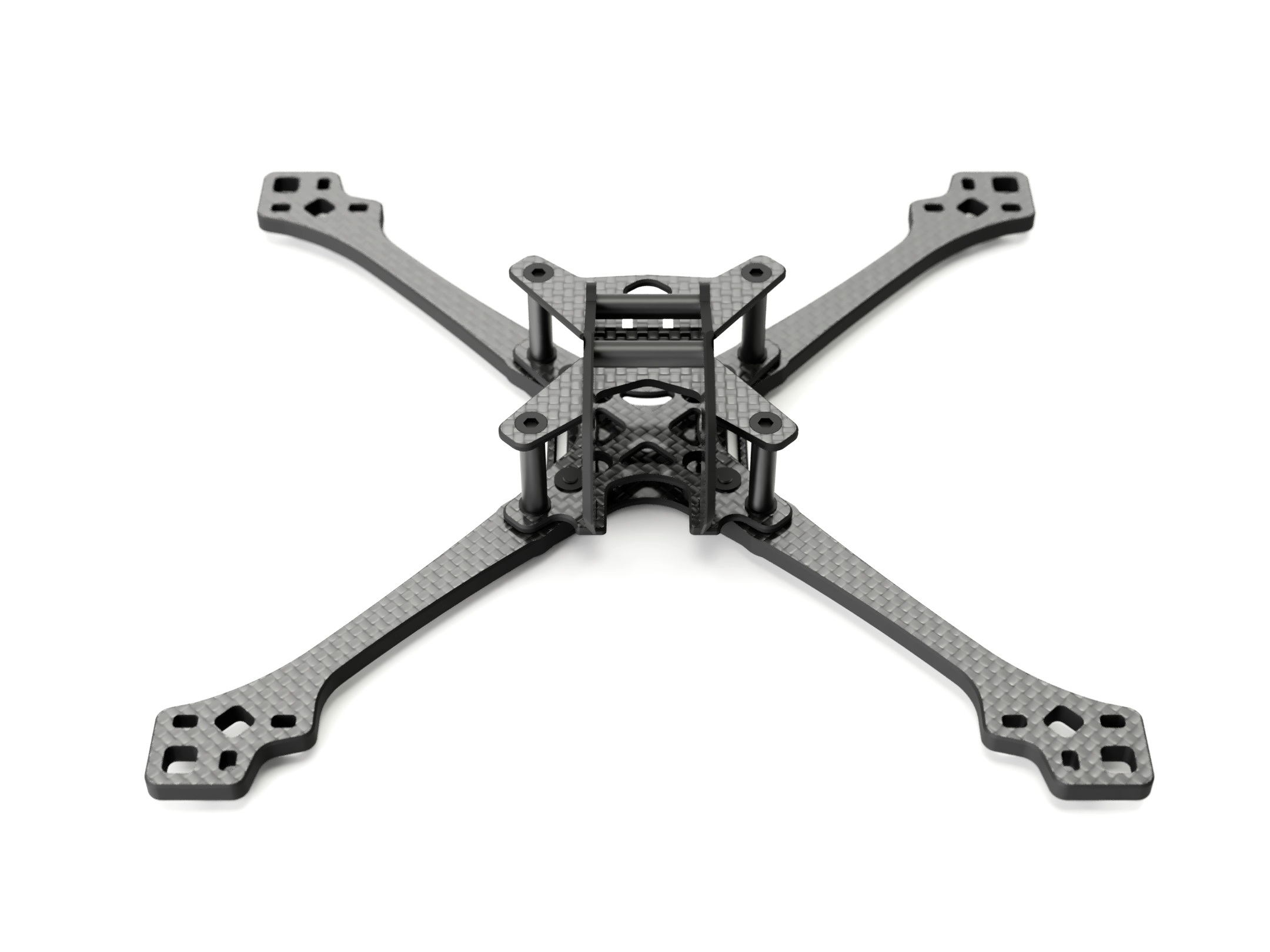 CROSS5 - Compact and agile Cinema/ Racing Drone Frame
KEY FEATURES:
extra strong 4.6 mm thick "Artisan" 3k Full Woven CF arms

impact resistant CF canopy

pre-build mount for HD camera pod

5 different canopy variations
Main specifications and features:
True X type frame

209 mm MTM

55 - 63 grams weight including hardware depending on variant

25 mm high stack

30.5x30.5 and 20x20 stack mounting options

up to 5.2 inch props

Micro sized cams

up to 90 deg. rotation angle for DVR camera

Bottom battery mounting
Description:
One of the smallest and lightest CrissCrossFPV drone frames with dual purpose. Best used for Drone Racing or aggressive Freestyle.
CROSS5 frame can be assembled in two variants - Lightweight racing or universal with camera plates.
Thoughtful design and attention to details don't let you loose time during assembling or on rush repair between races.
Arms were produced from custom made T700 Toray "Artisan" 3k Plain Full Woven CF sheet. During my strength test, it showed up to 50% of strength increase over conventional 3k / UD CF composite.
Unique "TrippleScrew" feature help to reduce level of vibration transitioned from motors to FC. Arms and stack are fixed separately.
Each frame set is supplied with long Nylon screws and anti-vibration o-rings.
CROSS5 frame have mount for universal adjustable HD cam pod specially designed for use on most of CrissCrossFPV frames.
All plates and arms have chamfered edges, they are nice to touch and safe for wires.
Top and bottom plates are mounted with countersunk screws. That makes surface flat and allows easy and unobstructed mounting of battery.
Frame is developed within CrissCrossFPV's "Light Weight - Low Drag" vision.
Top materials used only, see details below.
Happy flying!!!
Main package:
4x 4.6 mm thick arm made from Toray T700 "Artisan" 3k Plain Full Woven CF sheet with high gloss finishing

1x 2 mm thick top plate made from Toray T700 3k Plan/ UD CF sheet with high gloss finishing

1x 2 mm thick bottom plate made from Toray T700 3k Plan/ UD CF sheet with high gloss finishing

1x 2 mm thick middle plate made from Toray T700 3k Plan/ UD CF sheet with high gloss finishing

2x 2 mm thick camera plate made from Toray T700 3k Plan/ UD CF sheet with high gloss finishing

6x 20 mm long 7075 T6 Aluminium standoff

1x set of steel hardware
Bonus accessories included:
1x 20x220mm Polyester battery straps with non-slip silicone layer

1x low ESR Rubycon 35V 1500uF capacitor

1x set of anti-damping o-rings with long nylon screws for stack

1x set of Carbon steel motor screws
Recommended FPV drone building parts:
2306/ 2207 high Kv motors

Matek F722-mini 20x20 Flight Controller

Aikon AK32PIN 32Bit 35A 2-6S 20x20 4in1 ESC

RunCam Racer2 Micro camera

TBS Unify Nano Vtx

TBS Crossfire Nano Rx